Single-Cell Mingle Disco
Single, as in solo and microscopic, these cells swim to the beat under the disco glow.
A playful sparkle from above uplifting our gaze and perspective on the primary producers powering the base of our planet. If single-cells can help provide over half of Earth's oxygen from the sunlit layer of the ocean, imagine what we can do together.
Each sculpture magnifying the micro-organisms is hand-built ceramic and completed after multiple firings. Installation adapts to each environment and space to keep their groove going. Our single-cells have been working to support our planet for millions of years. Shining light on this precious ecosystem sustains us all.
Springs Eternal: Art, Water & Change
Perpetual Lophelia Pertusa and La Mer Installation featured in Springs Eternal: Art, Water & Change presents the ecological, environmental and the art of water as expressed by the different artists in this engaging show. Presentation and panel discussion opened the exhibit along with educational interactive public events scheduled throughout the Feb 6 - Mar 31, 2019 show at The College of New Jersey, Curated by Margaret Pezalla-Granlund.
Love Letters to Earth
Love Letters to Earth solo exhibit Sept 20 - Nov 11, 2018 at the Pennsylvania Academy of the Fine Arts, Historic Landmark Building, Alumni Gallery, Philadelphia. Curated by Morgan Hobbs & CJ Stahl, exhibit programing included a Pit-Fire Workshop for MFA and undergraduate students. See Pit-Fire Workshop images on Classes page.
Marine Abstract series Daughter Cells & Prickly Persistence in foreground with Sunlit Stream installation on south facing wall, 24' long.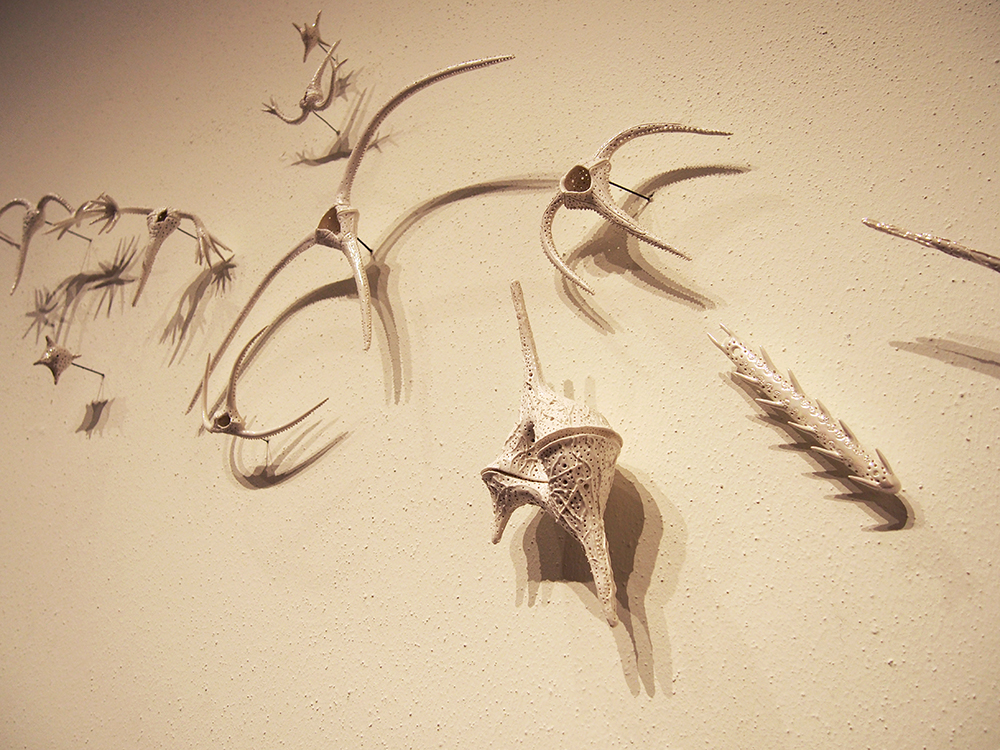 Sunlit Stream detail of marine micro organisms from our ocean's sunlit (top) layer responsible for over 50% of Earth's oxygen, our every other breath.
Diatom colonies in Sunlit Stream installation at Love Letters to Earth exhibit.
Diatom Dance from Marine Abstract series, Love Letters to Earth exhibit.
Grow Series: Blossom & Contemplation in Love Letters to Earth.
Bud, Grow series in Love Letters to Earth.
Total Solar Eclipse Homage: a peek inside captures the totality of this celestial show across North America August 21, 2017.
Pit-fired Rongorongo sculptures in Love Letters to Earth inspiring community pit fire workshop.
La Mer: People Protect What They Love
Solo exhibit at the Science Museum of Virginia, Richmond June 6 2017 - Jan 8, 2018.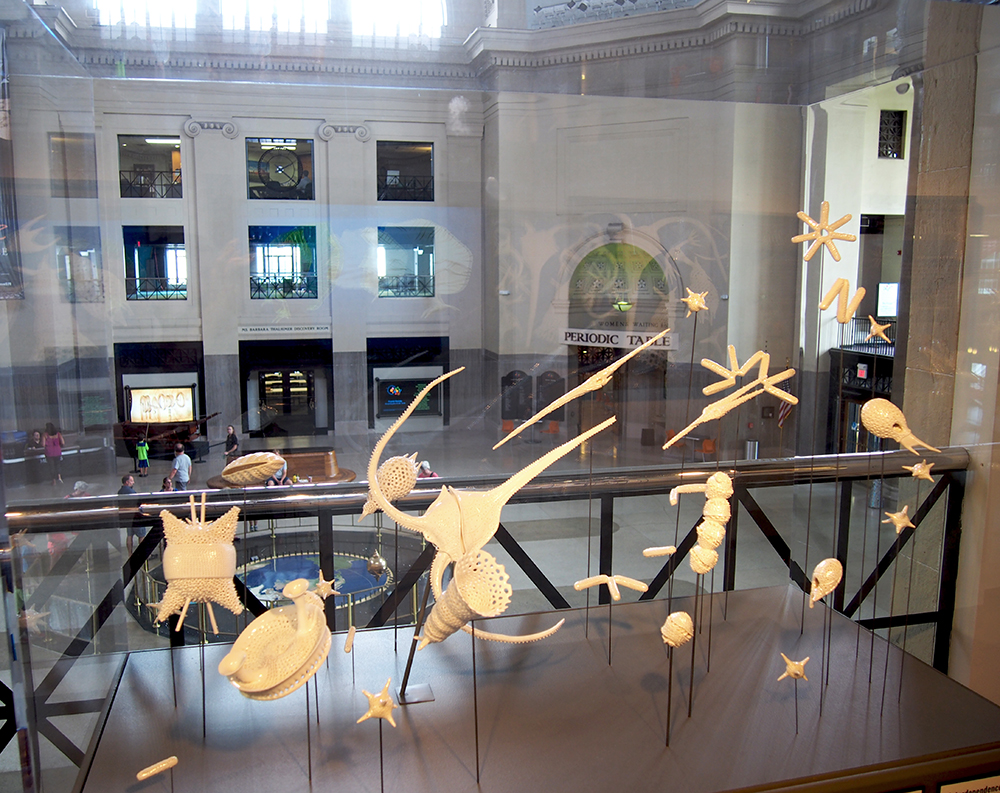 Marine Milky Way: Homage to David Hagan, brother, physicist, astronomer, educator, humanitarian and beyond as well as Staff Scientist for 30 years at Science Museum of Virginia.
Marine Milky Way, opening reception of La Mer: People Protect What They Love.
Kemp's Ridley Sea Turtle Hatchling: spar crystal, ceramic, 24K gold leaf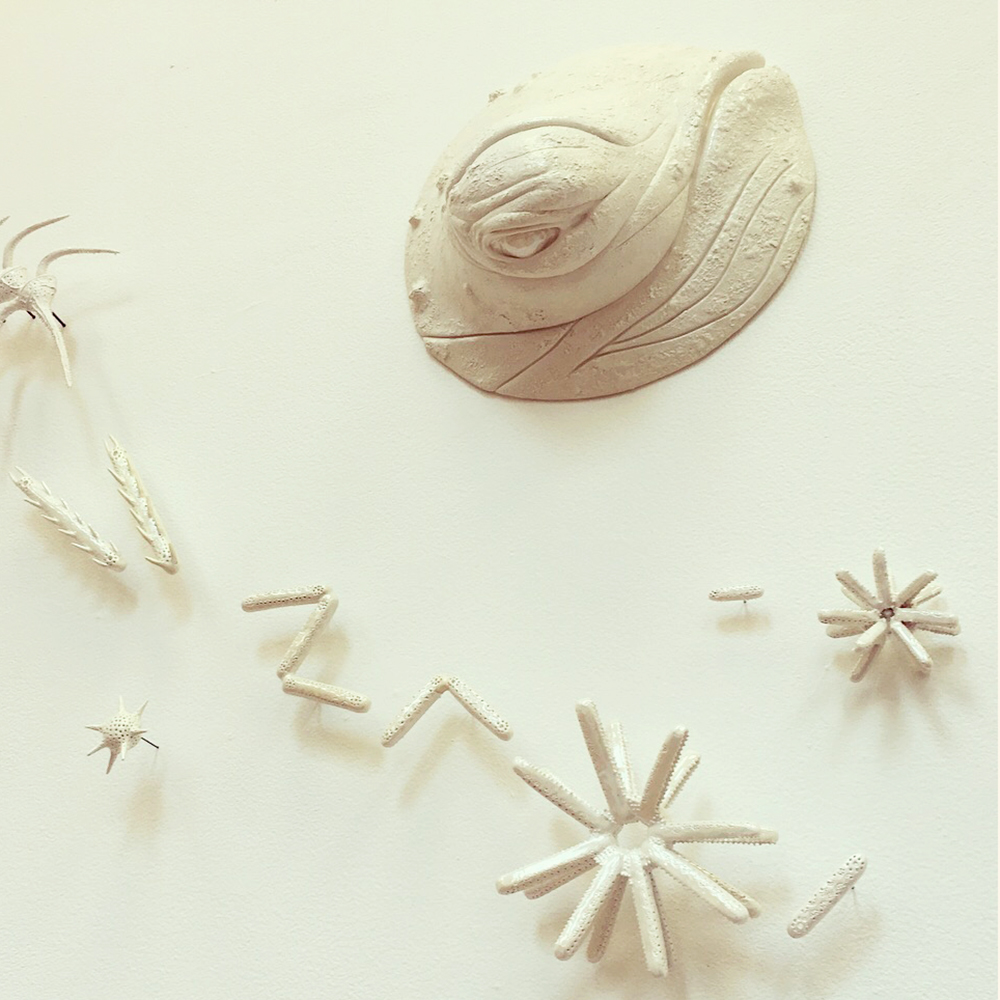 Wet Lab
La Mer Installation at Schuylkill Center for Environmental Education, Philadelphia, June 2018.
Diatom Odontella Colony Trio in Wet Lab installation, 20' long.
Wildlife & La Mer at Philadelphia International Airport
Invited by PHL Art Program curator, Leah Douglas to exhibit in the 63' case between Terminals C & D, Feb - Oct 2017
Wildlife Shields, right case.
Wildlife & La Mer Shields in center case.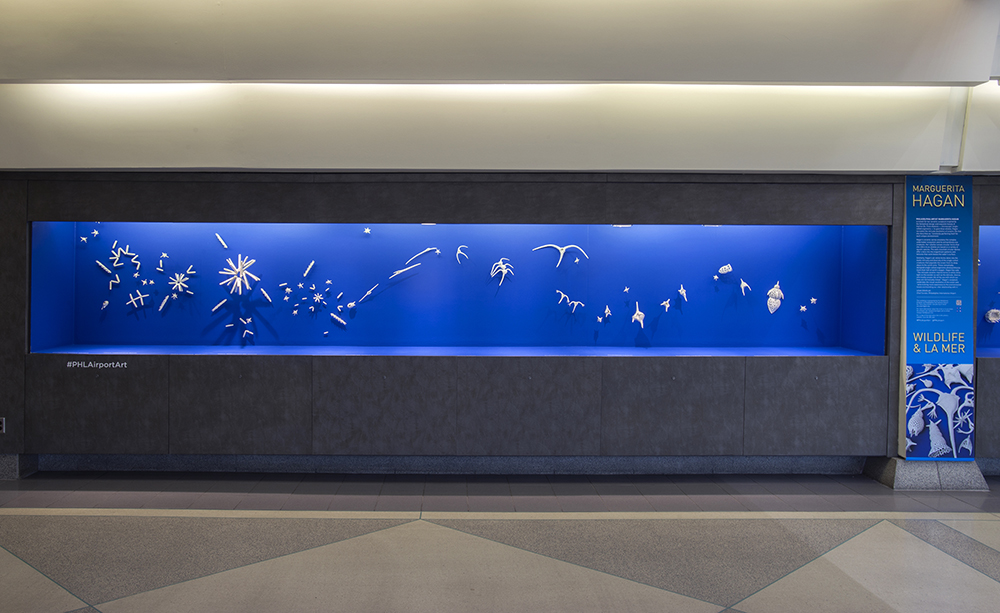 La Mer Micro Sculpture in left case.
Manta Ray, Dinoflagellate, Blue Whale Shields & Foraminifera stars detail from center case.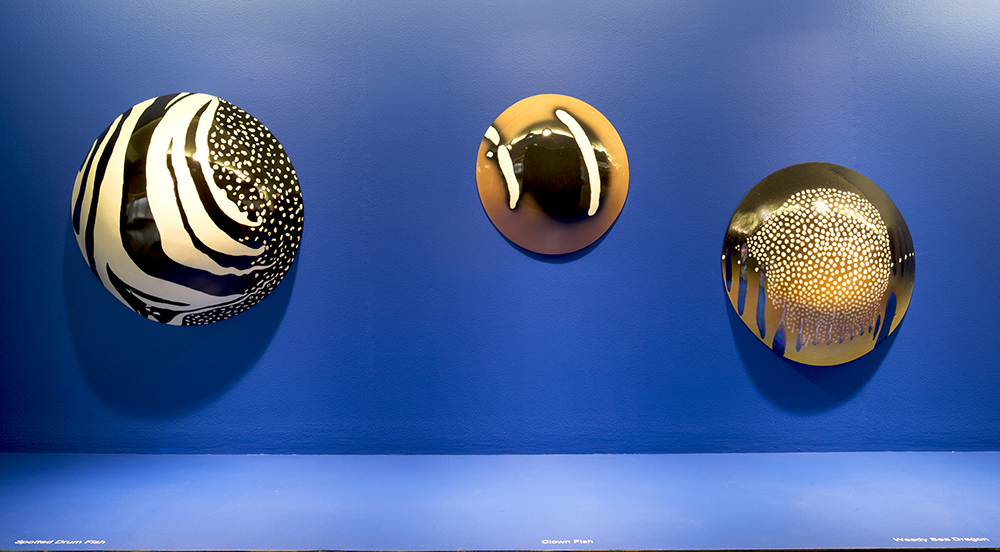 Spotted Drumfish, Clownfish & Weedy Seadragon from Wildlife Shields case.
Leafy Seadragon, Anemone, Great Star Coral, Firefly Squid & Radiolarian Shields in center case.
Diatom Stellate and Chain Colonies with Foraminifera Stars, detail of Marine Micro Sculpture installation in left case.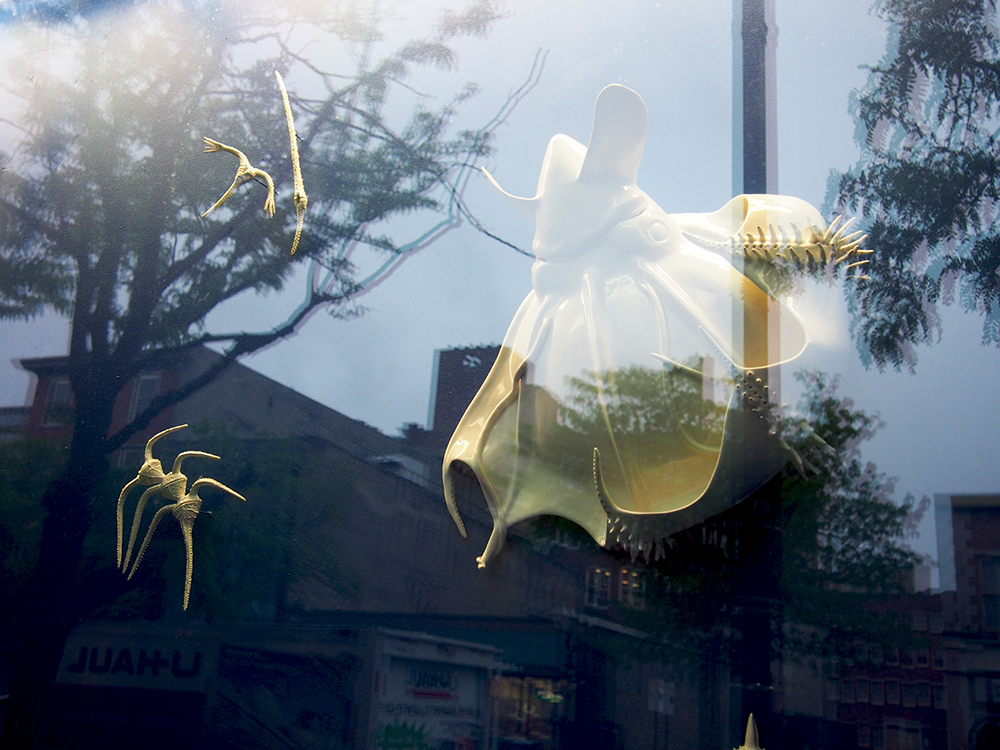 La Mer Installation: Artbox Inaugural Exhibit
Vampire Squid from Hell Shield and friends swimming along Market St, Philadelphia. This double-cased exhibition space set into an exterior commercial wall on Market St near 3rd Street is visible 24/7 and changes with each hour of the day.
Dinoflagellate Ranipes Spectaculare talking to the city and trees.
Dinoflagellates in this Philly playground.